Current
The Association's official newsletter, Current is published five times each year:
January/February/March (Pre-Legislative)
April/May/June (Post-Legislative)
July/August (Membership)
September/October (Pre-Conference)
November/December (Post-Conference)
Current is filled with informative and interesting articles about the community and state college profession as well as the activities and AFC members, chapters, commissions and other groups. It is distributed electronically via the AFC website.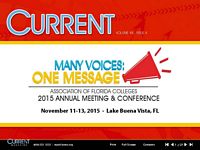 Current-Pre-Conference Edition
To view previous issues of CURRENT click here (you must be a member to view past issues)
Who, What, When, Where, Why
CURRENT is published five times each year: Post-Coference (November/December/January), Pre-legislative (February/March/April), Post-legislative session (May/June), Membership (July/August), and Pre-conference (September/October). To be considered for publication, articles must be submitted by the specified deadline (see calendar on Web site at http://www.myafchome.org/facc/Default.asp).
Commissions, Chapters, Regions, and Committees are encouraged to submit regular reports of activities. Articles submitted should not exceed 300 words in length. Articles should be sent as file attachments (Microsoft Word or Rich Text Format) via email to publications@myafchome.org. Please do not paste the article into the email message as this requires extra formatting. Please use only TIMES or TIMES NEW ROMAN fonts. Do not insert graphics, wallpaper or images.
Articles also may be submitted on CD in Microsoft Word (diskettes cannot be returned). To ensure accuracy, information will not be accepted via telephone. Make sure your article includes the "five W's"--Who,What, When, Where and Why. Along with the article/photo, please send a contact name and phone number. Photos may be submitted in either black and white or color as glossy prints or in digital format. Captions should be submitted with each photo and firmly affixed to each picture. Do not write on the face or back of photos submitted. Photos cannot be returned. Digital photos should be submitted in minimum of 300 DPI resolution, and minimum image size of 4 x 6 inches. Photos downloaded from Web sites (low resolution) are not compatible with printing and can not be used. Photos taken with film and transferred to CD are low res. Please send the original prints instead of the digital scans. Please do not paste or insert photos into documents. They cannot be used in this format.
Captions should be submitted with digital photos as separate text documents taking care to indicate which caption goes with which digital photo file. AFC reserves the right to reject photos not submitted as outlined above.
AFCreceives more than 100 articles and press releases prior to each publication. As a result, not all articles submitted can be printed; however, we make every effort to fairly represent all of our colleges and their AFC Chapters. Achievements of individual AFC members receive particular attention.
AFC reserves the right to edit, alter, and/or condense all items submitted for publication.
ADVERTISING RATES:
Full page (8.5" x 11") - $750
Half page (8.5" x 5.5") - $375 (horizontal only)
One quarter page (2.75" x 4.25") - $270
Business card (2" x 3.5") - $200
SPECIFICATIONS:
Magazine-PDF
Full Color
CIRCULATION:
Distributed to every AFC member and all 28 community colleges throughout the State of Florida
READERSHIP:
30,000+
AD DEADLINES:
January 31
May 2
August 1
September 5
November 24
CONTACT: AFC
Tina Ingramm-Ward
113 East College Avenue
Tallahassee, FL 32301
850-222-3222